Psychophonia World Premieres at Sitges Film Festival
.
Night of the Living Dead: Genesis Trailer:"Night of the Living Dead: Genesis will pay homage to the timeless classic while expanding upon its storyline to explore more of the night when the dead began to rise."
Directed by Matt Cloude off a screenplay he co-wrote with Wil Smith, Night of the Living Dead: Genesis stars Judith O'Dea, Sarah Snyder, Mike Lord, David Witt, Brenleigh Rigsbee, Cyrus Samson, Christy Johnson, David Crawford, Alexander Elliott, Jim Krut, Mike Christopher, Heidi Hinzman, and John Migliore.
———
StalkHer VOD October Release Date and Trailer: "Jack is pushed past the brink of his stalking obsession when he decides to break into Emily's home to take what he wants by force. However, his plans for her pain and his pleasure come unhinged when he wakes up to find himself bleeding and bound to a chair in her kitchen. For one night Jack and Emily engage in a twisted and thrilling courtship of the sexes that leads one to wonder which one of them will survive the night."
Written by, directed by, and starring John Jarratt, Kaarin Fairfax, StalkHer will be released on VOD this October 21st from Cleopatra Films.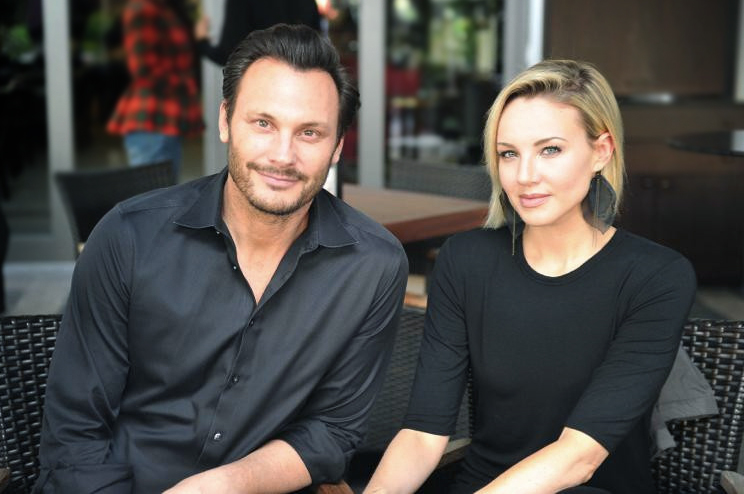 Festival Screening Details for New Films from Blanc/Biehn Productions: Press Release: "LOS ANGELES, September 28, 2016 – Blanc/Biehn Productions and Give & Take Productions' thriller PSYCHOPHONIA will have its World Premiere on October 7th and HIDDEN IN THE WOODS has its Spanish Premiere on October 8th. Both films are participating in the Midnight X-Treme program.
Sitges International Fantastic Film Festival of Catalonia is the number one fantasy film festival in the world. For more information on screening times and locations: http://sitgesfilmfestival.com.
Michael Biehn will also be announcing the ALIEN'S 30th Anniversary Screening at Sitges, which will also be showing on October 8th.
Jennifer Blanc, Michael Biehn, Brianne Davis, Mark Gantt, Vedette Lim, Danny Bellens, Nikita Black and Kurk Kasparian will be in attendance.
With a story from Lony Ruhmann and screenplay by Nicholl Fellowship winner Barbara Stepansky, the psychological thriller Psychophonia is helmed by Brianne Davis, who earlier directed The Night Visitor 2: Heather's Story.
After her husband Jeremy is brutally murdered, artist Lilly Tarver struggles with his secret sex life and coming to terms with who he really was. While diving into his dark and potentially dangerous world, a mysterious caller might hold the answers to his death.
Psychophonia stars Vedette Lim (Chicago Fire, True Blood) in the lead role of Lilly Tarver. Rounding out the cast; Andrew W. Walker (The Torturer, 2 Bedroom One Bath), Kellee Stewart (Hot Tub Time Machine 1 & 2, The Soul Man) Adam Rose (Up In The Air, The Bounty Hunter), Daniel Quinn (Fetish Factory, Wrong Cops), Mark Gantt (The Bannen Way, The Night Visitor 2), Mitchell Fink (Granit Flats, Zodiac),Lucie Pohl (Magi, Not Fade Away), Sean Hemeon (Husbands), Nikita Black (who will star in Blanc/Biehn's upcoming Fembot) and Jenimay Walker (Fetish Factory).
The film is Executive Produced by Michael Biehn, Jennifer Blanc-Biehn, Lony Ruhmann, produced by Brianne Davis and Mark Gantt.
HIDDEN IN THE WOODS is the remake of the original Chilean film, directed by the Chilean Dir. Patricio Valladares, and will make its Spanish Premiere at Sitges. Hidden In The Woods (A Las Afueras de la Ciudad), stars Michael Biehn (The Terminator, Aliens), William Forsythe (The Rock, "Boardwalk Empire"), MMA fighter Krxysztof Soszynski, Jeannine Kaspar (Iron Man, "House of Lies," "Nip/Tuck"), Electra Avelan (Grindhouse, Machete Kills), Mark Burnham (Quentin Dupieuxs, Wrong and Wrong Cops), Jennifer Blanc (The Victim, Wrong Cops) Mark Gantt (The Bannen Way, The Night Visitor) and Richard Gunn ("Granite Flats," "Dark Angel").
About Blanc/Biehn Productions
Blanc Biehn Productions is the partnership of famed actors Michael Biehn and Jennifer Blanc-Biehn. The pair decided to put their passion for acting and filmmaking together, creating their own production company. The duo produced and starred in Biehn's directorial debut, The Victim, a grindhouse film which co-stars scream queen Danielle Harris. The company recently released Treachery through Traverse Media and completed post on Jennifer Blanc-Biehns's directorial debut The Night Visitor and The Girl. They are currently in the sales process with WTF Films on Hidden in the Woods – The Remake. Other films include Altered PErception, She Rises, Staring Angus MacFadyen, The Night Visitor 2, Helevatorman, and Fetish Factory. Currently in preproduction on Fembot and developing The Lincoln, Killer Weekend, The Four, Good Family Times, Alien Ship, Rosemary's Little Boy, and many more. Look out for more releases on their slate as well as festival screenings in the near future, as well as a new list of fabulous directors being added to the roster.
For more information on upcoming BBP features, please go to www.TheBBBasement.com and sign up for news and updates. Many projects are currently in post-production with the partner and creative executive Lony Ruhnmann.
About Give & Take Productions
Give & Take Productions is a Los Angeles-based TV and Film Production Company started in 2013 by award-winning filmmaker Mark Gantt and Brianne Davis. The are currently in post-production on The Night Visitor 2: Heather's Story and in pre-production on A Place Apart, a dark drama written by Jackie Blakely, directed by Mark Gantt, starring Brianne Davis and executive produced by Solipsist Film's Stephen L'Heureux (Sin City: A Dame For Hire). They have several film and TV projects in development. www.giveandtakeproductions.com
Sitges International Fantastic Film Festival of Catalonia is the number one fantasy film festival in the world and represents, at the same time, the cultural expression with the most media impact in Catalonia. With a solid experience, the Sitges Festival is a stimulating universe of encounters, exhibitions, presentations and screenings of fantasy films from all over the world.
Born in 1968 as the 1st International Week of Fantasy and Horror Movies, today the Festival is an essential rendezvous for movie lovers and audiences eager to come into contact with new tendencies and technologies applied to film and the audiovisual world.
Sitges' status as the number one fantasy film festival in the world allows it to receive visits from top-level movie stars, directors and producers like Quentin Tarantino, Sir Anthony Hopkins, Jodie Foster, Paul Verhoeven, Ralph Fiennes, George A. Romero, Cameron Diaz, Viggo Mortensen, Terry Gilliam, Rutger Hauer, Sarah Michelle Gellar, John Landis, Joe Dante, Zoë Bell, Dino de Laurentii, Takashi Miike, Wim Wenders, Tony Curtis, David Cronenberg, Vanessa Redgrave, Darren Aronofsky, Brad Dourif, John McNaughton, Peter Greenaway, John Woo, Park Chan-Wook, Johnnie To, Paul Naschy, Ray Liotta, Jon Voight, Sam Raimi, Robert Englund, Tarsem Singh, Roger Corman, Mira Sorvino, Santiago Segura, Narciso Ibáñez Serrador, Guillermo del Toro, Kim Ki Duk, Álex de la Iglesia, Aitana Sánchez Gijón, among others from the long list of people who, year after year, are a media attraction. The Festival is governed by a Foundation, made up of representatives from the Sitges Town Council, the Generalitat de Catalunya (Catalonia's autonomous government) and other institutions, associations and public and private companies."