FIRST SCREAM TO THE LAST
.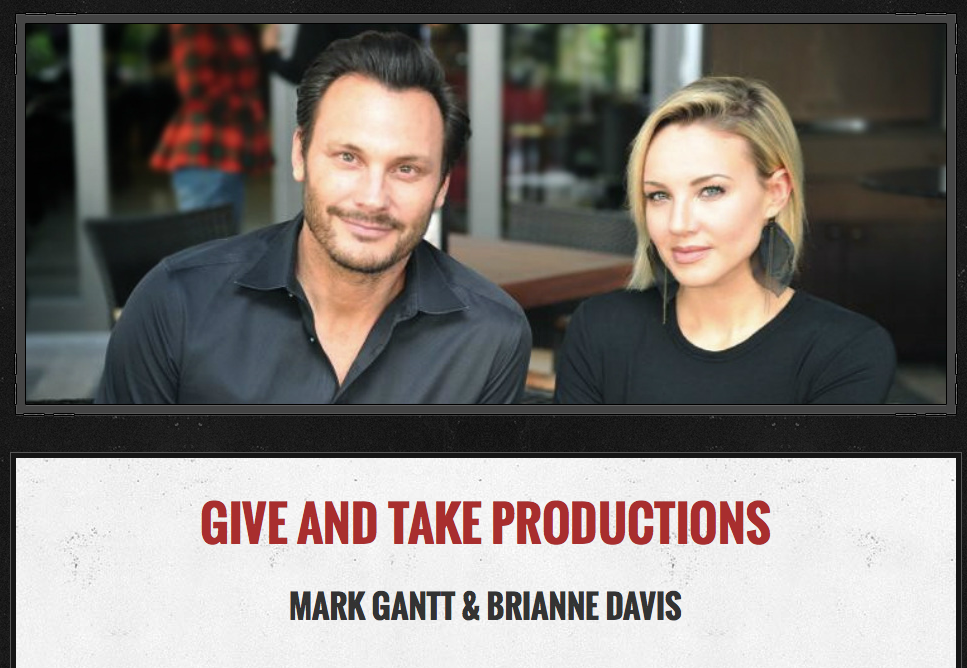 ---
In 2013, award winning filmmaker Mark Gantt and experienced actress Brianne Davis,
launched their own production company – Give and Take Productions.With numerous awards under his belt, Mark is best known for his role as Neal Bannen, in Sony's award winning series, The Bannen Way which he co-wrote and produced. In addition to working on many other television shows, Mark has also built up an impressive resume of feature films, further strengthening his experience. Couple this with the fact that he has previously taken the role(s) of directer, producer and writer, Mark certainly brings all of the experience and qualifications required, to launch a formidable production company.
Horror fans are of course already familiar with Brianne, who appeared in both Prom Night (2008), and Chomeskull: Laid to Rest 2.
The career of this incredibly talented actress actually began in 2001, with a guest appearance in Dawson's Creek. Since then Brianne has appeared in various television shows and movies, excelling in every role, thus proving her versatilely.
On paper, the collaboration of this incredibly talented couple offers huge potential, and one that could provide us all with some great movies.
I recently had the privilege of speaking with both Mark and Brianne, about their exciting venture. Like many other independent filmmakers, I found the pair to be extremely passionate and honest about what they do, with an underlying commitment to each other, and the industry they represent.
Having recently directed their upcoming film Psychophonia, Brianne was gracious enough to take some time out of her busy schedule, and speak with me about her career, and future ambitions.
---
brianne davis speaks with adrian roe about give & take productions
Brianne, thanks so much for taking the time to speak with First Scream. Before we discuss your new production company, I have to touch a little on your past acting roles, if I may!Horror fans will be all too aware of your past roles in Prom Night, and Laid to Rest 2. What can you tell me about those experiences, and did you enjoy them?
I love working in the horror genre.  The fans are incredible and it gives us actors a place to explore the extremes of a character.  I adored playing Crissy Lynn in Prom Night.  She was a spoiled brat which is always a blast to play.  In Laid to Rest 2, I shot for one afternoon and got to go all out in my scene playing Mrs. Cromeans, which is a big reveal in the end.
You have recently started you own production company, which looks really exciting. How did this opportunity come about?
My fiancé, Mark Gantt and I started our production company this year after we shot The Night Visitor. It just hit us that we worked so well together and we each had our own strengths.  Our third film is in the can and are in pre-production on "A Place Apart" Mark's feature directorial debut. I'm starring in it and we've recently brought on executive produced by Stephen L'heureux of Sin City: A Dame To Kill.
What is it that you would like to achieve with Give + Take Productions, and what are your main goals and ambitions?
I love to create art in the form of story telling.  Mark and I are inspired by the hardships of people and seeing the struggles they overcome and the growth that comes from it.  We're excited to be working with new writers and directors and telling meaningful stories that touch, move and inspire our audiences.
---
What genre(s), or target audience are you looking to appeal to with your new company?We are pretty open to all genres.  For us it's about the story and the characters. We want to explore the human condition, while helping people to connect with worlds that we aren't so familiar with on a daily basis.
How do you find the role of director/producer, as opposed to actress, and what do you find most satisfying about being in that position?
Well first of all I love both.  With acting you get to focus on just your role and finding your story arch.  But with producing and directing you have your hands creatively is in every aspect of the movie making process.  I love directing and producing because I like to have that control, over wardrobe, lens sizes, even craft service and catering.  I feel like the director has to lead the cast and crew, while allowing them to be the best they can be. Sometimes you miss the camaraderie of the crew when you're playing challenging characters and in character most of the time.
What would you say is your most satisfying achievement professionally, to date? 
Probably forming  Give and Take Productions. Because it's my future in this business to act, direct and produce.  Also, the film I just directed, Pyschophonia, I am really proud of this project.  The acting is unbelievable and I love creating the stylized look for the film.  Acting-wise I would say Synchronicity that has not been released yet, I am very proud of my character and playing Cindy Strauss on Murder in The First on TNT, loved working with Steven Bochco and Thomas Schlamme. Also, for horror, playing Jules in Among Friends for my dear friend Danielle Harris directing.  The Jules character was a crazy fun woman, who also was the comic relief of the movie.

What do you find the most difficult, or frustrating aspect of your job?
Most difficult part of my job is the unknown and that you have no control over someone hiring you.  You have to keep putting yourself out there for parts and walk away, letting go of whether or not I get the job. You have to be willing to keep getting rejected on a daily bases and stay open and vulnerable at the same time.  It can be very challenging at times.
---
I am hearing great things about your upcoming movie, Psychophonia, what can you tell me about it?I am so proud of this film.  Vedette Lim from "Chicago Fire" and "True Blood" plays the lead character, Lilly Tarver. After her husband Jeremy is brutally murdered, she struggles with his secret sex life and coming to terms with who he really was. While diving into his dark and potentially dangerous world, a mysterious caller might hold the answers to his death.  I have an amazing cast including Kellee Stewart (Hot Tub Time Machine, Soul Man), Adam Rose (Supernatural), Andrew Walker, Mark Gantt (Bannen Way) and many more talented actors.
What other projects can we look forward to?
I am attached to star in "A Place Apart" next April with our production company.  I'm recurring on Tyler Perry's new show "If Loving You Is Wrong" as the crazy wife Yolanda, and I just got done developing a movie with our writer Jackie Blakely, called "She". 
Where would you like to see your career, and Give + Take Productions, in ten years time?
I love this question because I think the sky is the limit. Mark and I have so many stories we want to tell and we're just getting started.  I would love to win a little gold man one day for directing and acting but open to whatever the universe has in store for us.

Brianne, it has been a pleasure speaking with you, and thank you so much for talking the time out. Please stay in touch, and I look forward to following the continued success of Give + Take Productions!
– Adrian
---